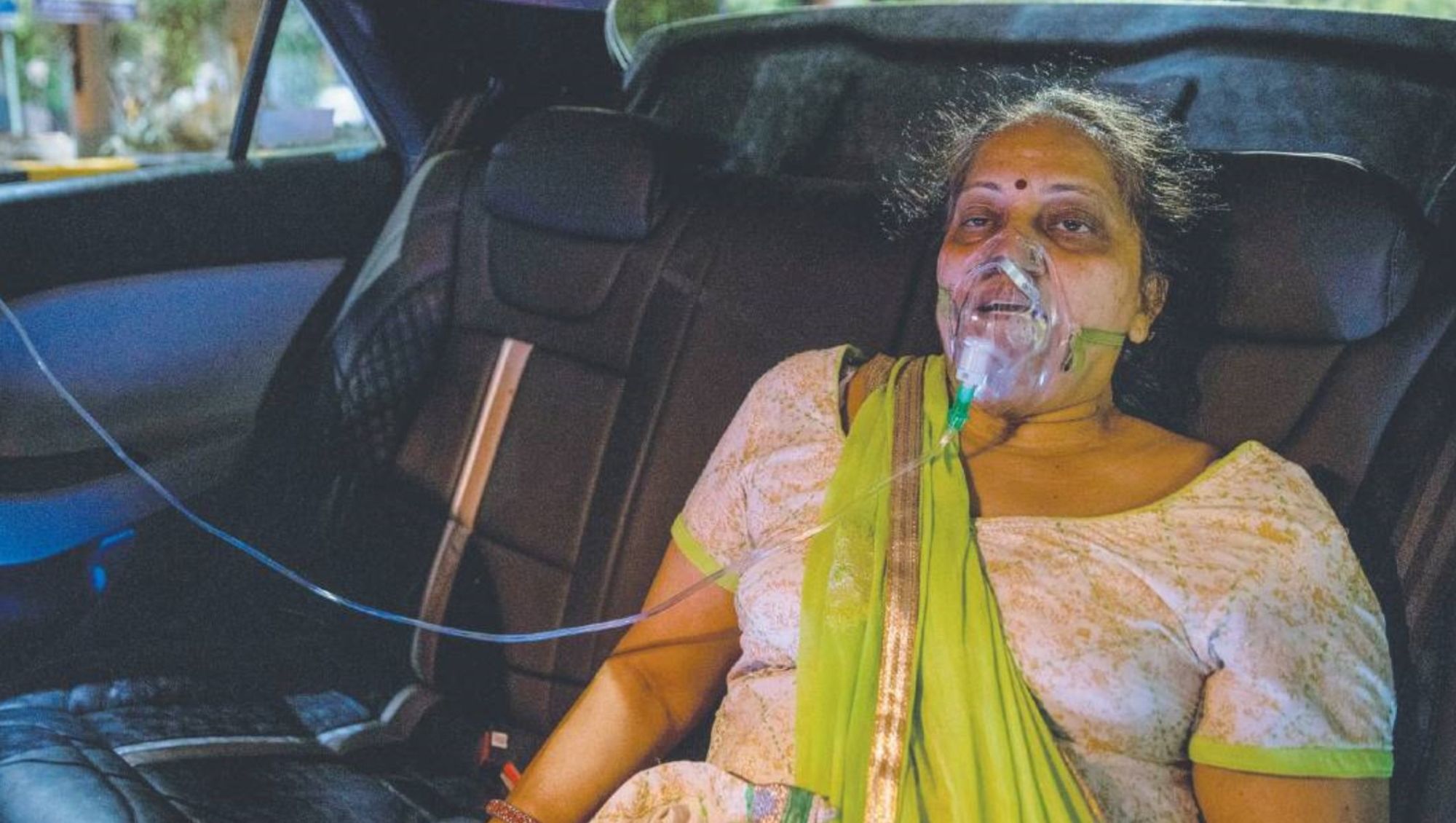 27 Apr '21 03:18:19
17
Hero image: a woman with a breathing problem receives oxygen inside her car at a Sikh temple in Ghaziabad, India
In The Australian newspaper today (April 27, 2021) we see this heart-wrenching front-page headline that grabs our attention:
We'll help, but travel ban likely as India gasps for oxygen.
What, the whole country of India gasping for oxygen?  

Oh My God! 
It goes on:
Prime Minister Scott Morrison will convene a meeting of the National Security Committee of Cabinet on Tuesday to decide on upgraded border restrictions with India, as his Indian counterpart Narendra Modi confronts a catastrophic virus outbreak, with more than 350,000 daily infections and thousands of deaths (The full article is appended below).
This type of reporting appears to be an example of media hype that has characterised this declared pandemic from the get-go.   It is short on facts and high on fear mongering & exaggeration, aimed at manufacturing belief and consent for a desired narrative.  
That narrative is that the world is experiencing a pandemic of a deadly disease that should create terror in the minds of us all citizens.  This terror then enables compliance with government edicts. 
  
The incessant talk of this covid pandemic for the past 15 months on TV news programs -  virtually displacing other news stories - serves to create what is called confirmation bias, through an endless feedback loop of cognitive reinforcement.    
I decided to evaluate the problem in India by googling the numbers.  
This is called thinking for oneself.
I have not owned or watched a TV set for about 10 years.    This, more likely than not, makes independent thinking easier to do.   With the internet we can get whatever information we need for ourselves, if we are internet savvy.  We don't need to be told what to think as a result of TV news addiction.    
So let's take a look at India: the numbers you can verify for yourself.
India
Population of India is 1.4 billion. 
Number of people in India who die every year from all causes is 9.3 million.  


Respiratory illness deaths in India are reported as 3.7% of total deaths per year.

That amounts to a little under 350,000 average respiratory illness deaths per year in India, before covid arrived on the world stage.  
How many people in India have died of covid?  


According to the World Health Organisation's latest report of data as received national authorities (as of 11 April 2021)

- the highest numbers of new deaths were reported from India (4652 new deaths; 0.3 new deaths per 100 000; a 51% increase). 




As you can see, India has experienced a little under 170,000 respiratory deaths attributed to covid over the past 15 months, since the start of the declared pandemic. 
On a pro-rata basis, we would expect (350,000)(15/12) = 440,000 expected respiratory deaths in the normal course of events, in India during this time period.    This places covid in a realistic setting of the whole spectrum of pre-existing respiratory diseases that affect mostly older people, causing death.  
From this perspective, the pandemic reported by the W.H.O. could well be the acting out on the world stage of the SPARS Pandemic Scenario of 2025-2028, bought forward to 2020.    It would be difficult to falsify this hypothesis.  


Global respiratory illness deaths
Philosophical preamble  
In the entire world, almost 55 million of us die of disease and injuries every year. 
Each of our lives can be seen as fundamentally tragic, because we are all destined to die.  

At best, we will die of a disease called old age, that recently killed Prince Phillip. 
As is said in the scriptures:
The days of our years are threescore years and ten; and if by reason of strength they be fourscore years, yet is their strength labour and sorrow; for it is soon cut off, and we fly away. - Psalm 90:10, King James Version
Most reported deaths of covid happen to people who have surpassed their allotted threescore years and ten.  This can be verified.  I said most, not all.
There used to be a saying that birth, marriage, and death are the three fundamentals of life.   
I think it is safe to say that, with the advent of this new phenomenon of men legally marrying men, and women legally marrying women, marriage is now something quite arbitrary and meaningless.  
That leaves birth and death as the two certainties, the two fundamentals of life.   
Life is what we experience between birth and death.   But where were we before we were born?   And where will we be after we die?   
Those are the fundamental religious questions.
So, what if everything we believe while we are alive, is false?  
For example, what if we believe Osama bin Laden was responsible for bringing down the Twin Towers, and Building 7 blew itself up?

What if we believe covid is something quite real and tangible, yet we cannot see it or experience it?
This type of fundamental question was asked by the famous philosopher Rene Descartes.   His book on doubt and certainty was published in 1641, with the lofty title Meditations on the First Philosophy in Which the Existence of God and the Distinction between Mind and Body Are Demonstrated.   It is really heavy going stuff.   I know because I listened to the audiobook.   It is guaranteed to put one to sleep at night because your brain gets so fatigued just trying to understand what he is trying to say.   


Global deaths 
As we said above, 55 million of us die every year. 
Death is one certainty in life, and old age is not a condition that causes death according to World Health Organisation and Centre for Disease Control statistics.  Those statistics say that we can only die of either disease or injury.   There is no such thing as a medical disease called old age.  Try and figure out that conundrum.   
These diseases are ranked in order of frequency, with cardiovascular diseases at the top, followed by cancers, then respiratory diseases.  Down the scale of frequency we see conditions like dementia, suicide, kidney disease and so on. 
Now this syndrome called covid is a respiratory disease.  We might ask: how many people in the world died of respiratory disease every year, before this new category of respiratory disease magically appeared?  The answer is 6.6 million.


As of now, the World Health Organisation has reported that, globally, 2.9 million people have died of respiratory disease named covid.   The source of the associated virus is unknown.   It is unknown whether the virus is God-made - a product of Nature -  or Man-made, a product of gain-of-function research done in the Wuhan Level 4 virus-combat laboratory. 
Since the declared pandemic has been going for 15 months, on a pro-rata basis, we can say there would be (6.6 million)(15/12)=8.2 million respiratory deaths during this period in the absence of this new disease called covid. 
 So, as I see it, (2.9/8.2)(100)=35% of normal, expected global respiratory deaths have been reclassified as covid.  

From this perspective, covid could well be a perfect hoax, if you were writing a science fiction novel. 
In any case, as hypothesised above, the declared pandemic could well be the acting out on the world stage of the SPARS Pandemic Scenario of 2025-2028, bought forward to 2020. 
Food for thought.

--ooOoo--
Text of story that triggered the above rumination. 
We'll help but travel ban likely as India gasps for oxygen
by Geoff Chambers and Joe Kelly
The Australian newspaper, April 27, 2021

Australia will impose a ban or tougher restrictions on travel with India, and is preparing to send ventilators and medical equipment to support thousands of COVID-19 patients flooding emergency rooms across the subcontinent amid warnings the country is "gasping for oxygen".
Prime Minister Scott Morrison will convene a meeting of the National Security Committee of Cabinet on Tuesday to decide on upgraded border restrictions with India, as his Indian counterpart Narendra Modi confronts a catastrophic virus outbreak, with more than 350,000 daily infections and thousands of deaths.
Mr Morrison last week announced a 30 per cent reduction in passenger numbers for Australians returning from India on government-facilitated flights over May, as well as a 30 per cent reduction on commercial flights direct from India.
The dramatic increases in new infections and deaths in India has forced the government to decide on tougher restrictions or a blanket ban, similar to the height of the pandemic with China, Italy, South Korea and Iran.
Mr Morrison, Foreign Minister Marise Payne, High Commissioner to India Barry O'Farrell, Health Minister Greg Hunt, Home Affairs Minister Karen Andrews, senior department officials and the Australia-India community worked through the weekend to prepare a humanitarian package, which will provide practical and immediate help for the Modi government.
The speed of the COVID-19 infection spread in India has forced DFAT officials to prepare Australians in India for the likelihood of a travel ban, with thousands attempting to return home.
Mr Hunt on Monday said the NSC meeting would determine what Australia could do to assist India as it faced a "humanitarian and health crisis on an unimaginable scale".
The government was expected to deploy ventilators, oxygen and personal protective equipment to India, which has ramped up its domestic vaccination production.
"India is literally gasping for oxygen," Mr Hunt said. "And whilst we can assist with the national medical stockpile, their particular request is for assistance with regards to the physical supply of oxygen. And that will be one of the things we're looking at, in particular with the states.
"We recognise that for the Indian community, they are suffering abroad, but our Indian-Australian community is also suffering. Their friends and their family and their loved ones are in extremis.
"Many are contracting the disease and many, sadly, are dying every day. They are dying and unable to breathe."
The Australian understands the government was assessing how it could best support Australians getting home, and was working on upgraded quarantine measures which could facilitate people leaving India.
Mr O'Farrell on Monday confirmed there had been a surge in Australians trying to get home.
"I think the list is still about 8000 and that's after we've returned a total of 17,000 people since March of last year," he said.
Travel between Australia and India, as well as other countries, has been heavily regulated during the pandemic, and often required exemptions.
Mr Hunt, who conceded the NSC meeting may be forced to further reduce flights, said the government was attempting to strike a balance of keeping Australia safe and bringing home Australians stranded overseas.
Mr Morrison, who last spoke with Mr Modi at the Quadrilateral Security Dialogue virtual leaders' summit last month, at the weekend said Australia "stands with our friends in India as it manages a difficult second COVID-19 wave. We know how strong and resilient the Indian nation is. Narendra Modi and I will keep working in partnership on this global challenge."
Britain, the US and Europe have all pledged to send emergency equipment and support to India this week.
US President Joe Biden on Monday tweeted that America was "determined to help India in its time of need" in a coming together of the two nations with the most COVID-19 cases in the world. The US pledged it would send supplies and resources – including ventilators, rapid diagnostic test kits and PPE – and had also identified sources of raw material urgently needed for Indian manufacture of the Covishield vaccine which would be made immediately available to India.
The Biden administration said it was urgently exploring ways to provide India with oxygen generation, while a team of public health experts from the Centre for Disease Control and USAID would be working in close consultation with Indian authorities.
The US Development Finance Corporation is also committed to funding an expansion of manufacturing capability for Indian vaccine manufacturer BioE, allowing it to produce one billion vaccine doses by the end of 2022.
The commitments came after US National Security Adviser Jake Sullivan spoke with his Indian counterpart Ajit Doval. The two democracies pledged to stay in "close touch in coming days".
Australia's success in suppressing the virus spread, supported by tough international border rules, meant the country's medical stockpiles have a surplus of non-invasive ventilators.
Mr Hunt said "we'll still keep a reserve, but if they can be of assistance, equally, we've reached out to the states who actually carry the supplies of oxygen, to see whether there is any spare capacity which may be provided".
In updated travel advice for India, DFAT said COVID-19 infection numbers were "increasingly rapidly across India".
"Medical facilities in major cities have adequate treatment standards, though availability of treatment is strained as a result of the COVID-19 pandemic.
"Availability of treatment can be very limited or unavailable in remote and rural areas."
[end]