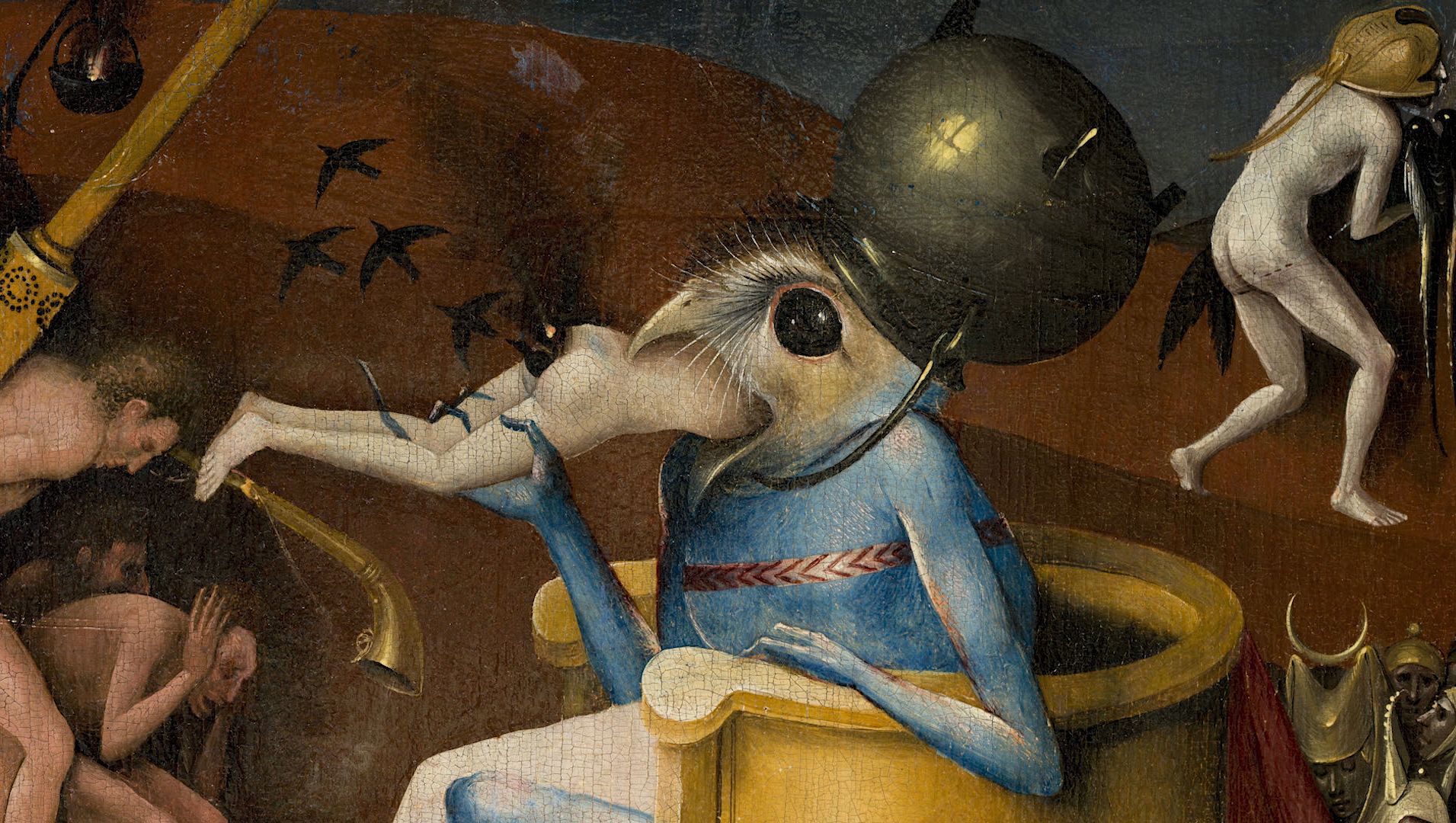 1 Feb '22 05:37:21
5
The image at the top of this story is a detail from The Garden of Earthly Delights, by Hieronymous Bosch.
There's an important aspect of the the last 2 years on planet Earth, the understanding of which may help us prepare for what is coming.
The nub of it is this: the West has slipped into a "mass formation psychosis", which is likely to continue to influence the way society is run long after the pandemic has disappeared from the news. The condition might also be referred to as  "neurotic totalitarianism". The key feature of this condition is the constant projection of fear through scenarios which are invented by government-appointed experts and amplified by the media and political leaders. Fundamentally this is not dissimilar to the paranoia about Communism which gripped the West during the Cold War, or fears about an "Islamic Caliphate", or alarmism about a "climate crisis". It is also different, in ways which I will expand on here.
The current zeitgeist has led us to fear normal activities in a way that is unique in human history. Never in history have people been so terrorised that they wore muzzles while walking down the beach on a windy day, alone, or feared contagion from perfectly healthy people. The extreme nature of the paranoia has been normalised to such a degree that it is only the people arguing against it who are seen as weird. To the extent that this is a form of mental illness, I believe it is primarily one which afflicts the West, and which is intimately tied in with the cult of scientism - a fanatical and intolerant ideology which informs the ruling elite of big tech and big pharma. Those who are most deeply enmeshed in it are also transhumanists, who see the fusion of the human and the machine as inevitable. These people believe that humans are scourge on the planet and must be culled. Their vision of the future is one with a massively reduced population ruled by a technocracy. As with all ideological extremists they idealise the future and and scrub from the picture the inevitable reign of terror which will be required for its implementation. I don't believe there is an overt conspiracy at work, but rather a confluence of interests, fueled by the same fanatical belief system which makes it possible to have an agenda being pursued with no clear agency behind it.
Although I say "the West" I know that the same tendencies have been seen in many non-western countries around the world. My perception is that these countries have been eager to adopt the "biomedical security state" mode of governance, but without the same degree of conviction seen in Europe, North America and Australasia. Even China, which is widely touted as having a very strict covid policy, has in reality been operating business-as-usual since mid 2020.
There have been many incentives for poorer, less developed nations to adopt the policies hammered out by government epidemiologists in the West. The incentives are both political and financial. To go against the zeitgeist of the West would have been to forgo IMF money and a multitude of bilateral ties and NGO inflows into these economies. The path which most non-western countries have followed is to quietly de-escalate restrictions while officially still claiming to be deeply concerned about the pandemic. In some countries like the Phillippines, which is ruled by an iron fisted dictator, harsh public health measures simply dovetail with natural tendencies. In Vietnam, which has a rigid socialist, one party regime, strict lockdowns were also a natural expression of the tendencies of those in power. However, it must be noted that even in these extreme examples the application of these measures was sloppy and uneven.
By contrast, in the highly developed West, the enforcement of "public health restrictions" has been done with ruthless efficiency and really signals a new style of society, where the State has become vastly more powerful and the individual vastly weaker. I believe that this shift in the fundamental power relationship is the real essence of what has taken place during the pandemic. It is likely to be a long term situation, and will manifest in many different ways which have nothing to do with public health per se. 
Many who reject vaccines are expecting a population decline due to the degenerative effects of the covid vaccines over a period of years. I believe there will be a population decline, but my perspective on this is a little different. As I see it, the main effect of the vaccine mandates is to train humans to bow before the cult of scientism. It is similar to the way in which religion has been forced on conquered people throughout the ages. When you look at it this way, you will see all the covid measures as having the same fundmental purpose - enforcing compliance and subservience to the ruling cult and power elite, which does not tolerate a diversity of views, even while preaching "diversity". 
Population reduction is likely to occur due to many factors, and will be a fulfillment of the vision of those who lead the scientistic/transhumanist cult, but we are nowhere near that yet. I'm expecting to see a general easing of pandemic restrictions in 2022, and a partial return to normality. Because I see that what is unfolding is due to irrational forces rather than the result of the controlled implementation of a master plan, I'm expecting the unexpected. The next act in this drama may be something totally separate from public health, and it may take everyone by surprise. I'm ready for anything, as I know that deep irrational forces have been tapped. It could be an economic collapse, alarmism about climate change, civil unrest, war, or even something more exotic. 
I believe this interview with a government epidemiogist from Denmark gives you a glimpse of the way in which the pandemic will come to an end in the West. Note that there is no admission from this person of any mistakes, let alone malfeasance or wrong-doing. The sudden end of all covid restrictions is simply presented as the next rational step in a series of rational steps. There is no disavowing of past policies and no suggestion that lockdowns and other hysterical responses will not return at some point in the future if a new, nastier coronavirus variant emerges.

https://www.youtube.com/watch?v=1s1UX2ZNsh4
In my view the most likely scenario over the next two years will be populist revolutions and violent civil unrest. It will most likely begin in the United States in the run up to the next election. There is also a reasonable probability of war with China, which will begin over Taiwan. If these two scenarios were to emerge at the same time, it would be the "perfect storm" to induce a depopulation process. This would provide justificiation for increased controls on human movement, free speech and bodily autonomy. Even then however, I don't see things unfolding in a linear way, as we might imagine from reading dystopian fiction. We are dealing with irrational forces, not premeditated, sober agendas.
As we saw at the end of WWII, this phase of history may ultimately give way to a resurgence of freedom and openness. History rarely repeats, but it often rhymes.