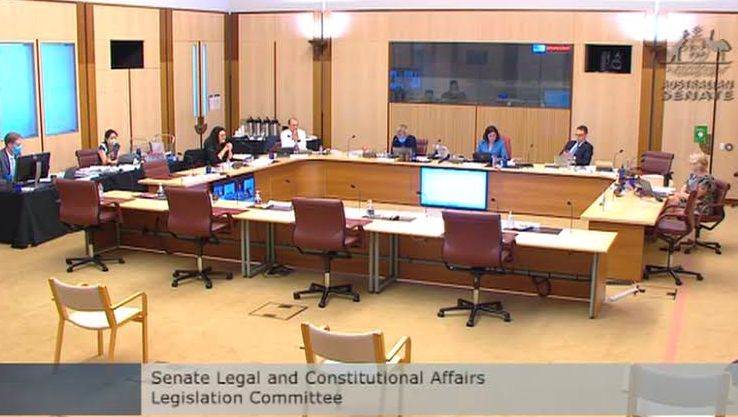 5 Feb '22 06:04:59
16
What was the immediate cause of the political & legal concerns that gave rise to this Religious Discrimination Bill in the first place?   

The Bill is aimed at protecting religious freedom of speech. 

Immediate cause
The immediate or initiating cause was the success of the Australian homosexual rights lobby, culminating in their victory in the November 2017 same-sex marriage plebiscite. 
7.8 million eligible voters responded Yes and 4.9 million responded No to the idea that the Marriage Act 1961 should be changed to remove the stipulation that a marriage can only be between a man and a woman.  
Following the plebiscite, the Marriage Amendment (Definition and Religious Freedoms) Act 2017 was introduced.  The bill amended Section 5 of the Marriage Act to define marriage in Australia as the union of "2 people".
There we have the problem in a nutshell.    

The idea that marriage is something other than between a man and a woman is anathema to most people of Christian faith. 
The Catholic Church opposes same-sex marriage and "views marriage as a unique relationship between a woman and a man".
The National Council of Australian Baptist Ministries "rejects moves to extend the definition of marriage to include same-sex relationships".
The Anglican Church's official position is that marriage is "an exclusive and lifelong union of a man and a woman"
The Eastern Orthodox church considers marriage "a sacrament . . . through which the union of man and woman is sanctified by God".
The Pentecostalist religion's chief representative group, Australian Christian Churches, opposes same-sex marriage.
The Presbyterian Church opposes same-sex marriage and responded to the results of the same-sex marriage survey by stating it "continues to hold to the biblical definition of marriage as between one man and one woman as we believe it best reflects the Lord's creational design for human flourishing".

Also, besides Christian religious belief:


Most Islamic scholars are in agreement that homosexuality is "incompatible with Islamic theology". The Australian National Imams Council "affirms that Islam sanctifies marriage as only being between a man and a woman".
The Australian Council of Hindu Clergy issued a clarifying statement in September 2017 stating that marriage under Hinduism is between a man and a woman; the group having come to the position after a formal vote was taken indicating 90% approval for the position.
Thus a legal conundrum has arisen because the law has now been changed in a way that conflicts with the moral belief and conscience of almost 5 million Australian citizens. 
The Religious Freedom Bill being currently debated in Canberra is an attempt to avoid turning this large section of the Australian community into outlaws i.e., people who, on the grounds of their religious conviction, will not abide by the new man-made same-sex marriage law.    
At the time of writing, an outcry has arisen from the homosexual rights lobby because a Christian school in Brisbane made this statement of belief in a contract parents were asked to sign.    
God created human beings as male and female . . . we believe any form of sexual immorality (including but not limited to adultery, fornication, homosexual acts, bisexual acts, bestiality, incest, paedophilia and pornography) is sinful and is destructive to human relationships and society.
Such a public statement is the sort of thing that would attract the attention of a local gay activist who would lodge a complaint to the state anti discrimination board or human rights commission.   The statement of belief would be deemed to breach homosexual vilification laws.   To wit, section 49ZT of the New South Wales Anti Discrimination Act 1977, or section 67A of the A.C.T Discrimination Act 1991.   Here's the wording of the latter:
It is unlawful for a person to incite hatred, revulsion of, serious contempt for, or severe ridicule of a person or group of people on the ground of homosexuality, other than in private
Examples - other than in private
screening recorded material at an event that is open to the public, even if privately organised
writing a publicly viewable post on social media
speaking in an interview intended to be broadcast or published
actions of gestures observable by the public
wearing or displaying clothes, signs of flags observable by the public
In short, the current religious freedom bill is designed to avoid state anti discrimination laws from criminalizing, punishing and demanding a public apology from a person or group who makes a public statement of belief of the kind or similar to the one shown above, made by the Christian school in Brisbane. 
The root cause of the problem

This religious freedom bill would not be required, absent the existing onerous homosexual vilification laws that affect free speech.   
These laws have resulted in the waste of millions of taxpayers dollars and a "lawyers picnic" caused by homosexual activists filing hundreds of trivial and vexatious homosexual vilification complaints about statements of religious belief made on social media. 

The more rational solution would be to eliminate the root cause of the problem.  That is, repeal homosexual vilification laws contained in state anti discrimination legislation, on the grounds that they are unworkable and lead to more problems than they solve.   

Mark Latham drew attention to the root cause of the problem in his speech to the New South Wales Legislative Council two years ago, on 27 February 2020.

Overall conclusion

Listening to the live broadcasts of the Senate Inquiry on January 20 and 21, 2022 (see picture above) it became clear that the only group in society that opposes in principle the Religious Freedom Bill were the spokespersons for the "LGBTQI+" lobby groups and advocates.   

See for example this December 21, 2021 story in the Star Observer - Setting Australia's LGBTI agenda since 1979: The Star Observer strongly opposes the proposed religious discrimination bill. 

This highly complex legal & political issue that has arisen in Australia is a result the different ways homosexuality is treated in anti discrimination law compared to Christian belief systems.  In the former it is treated as an identity. In the latter, as a behaviour.   

Christians are able, in their minds, to separate behaviour from identity.  This paradoxical situation is best seen in the saying Hate the Sin, Love the Sinner.
Thus, when Christian preachers disapprove of homosexuality on moral grounds, they are disapproving of homosexual acts, not sexual attraction to the same sex.    This is probably best illustrated by this excerpt from the Catholic Catechism that summarises the church's teaching on homosexuality: 
Homosexuality refers to relations between men or between women who experience an exclusive or predominant sexual attraction toward persons of the same sex. It has taken a great variety of forms through the centuries and in different cultures. Its psychological genesis remains largely unexplained. Basing itself on Sacred Scripture, which presents homosexual acts as acts of grave depravity, tradition has always declared that 'homosexual acts are intrinsically disordered'. They are contrary to the natural law. They close the sexual act to the gift of life. They do not proceed from a genuine affective and sexual complementarity. Under no circumstances can they be approved.
The number of men and women who have deep-seated homosexual tendencies is not negligible. This inclination, which is objectively disordered, constitutes for most of them a trial. They must be accepted with respect, compassion, and sensitivity. Every sign of unjust discrimination in their regard should be avoided. These persons are called to fulfill God's will in their lives and, if they are Christians, to unite to the sacrifice of the Lord's Cross the difficulties they may encounter from their condition.
Homosexual persons are called to chastity. By the virtues of self-mastery that teach them inner freedom, at times by the support of disinterested friendship, by prayer and sacramental grace, they can and should gradually and resolutely approach Christian perfection.
 Notwithstanding,  this whole issue has led to an incredibly complex legal and political struggle in Australia.   It will do your head in, so to speak, if you try to digest all the 221 detailed submissions made to the inquiry into the matter, conducted by the Senate Standing Committee on Legal & Constitutional Affairs.
Other related posts

Australia's Religious Freedom Bill is a Failure

Identity politics in Australia & the religious freedom bill
Subject: Australia, religious freedom bill
Front page story in today's Australian newspaper (November 17, 2021)
HATE SPEECH: the case of Israel Folau

LGBT activism has led to corruption withing the NSW Anti Discrimination Board, Australia