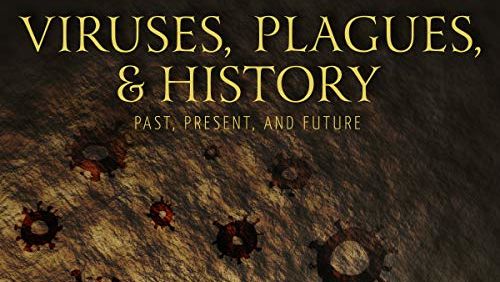 26 Aug '21 09:01:27
9
Below is copied Chapter 12 of a must-read book.  
VIRUSES, PLAGUES, AND HISTORY: Past, Present, and Future by MICHAEL B. A. OLDSTONE
Oxford University Press, Inc. 
Copyright © 2010 by Michael B. A. Oldstone

From his profile page at US National Library of Medicine, National Institutes of Health:
Viruses lie at the heart of some of humanity's most pernicious and devastating diseases, such as AIDS, hepatitis, and influenza. Michael Oldstone, a recently elected member of the National Academy of Sciences and a professor of immunology and microbiology at The Scripps Research Institute in La Jolla, California, has devoted his career to a molecular understanding of how viruses infect cells, evade and manipulate the immune system, and cause disease. Oldstone studied the pathogenesis of lymphocytic choriomeningitis virus (LCMV) in its natural host, the mouse, for decades. Along the way, Oldstone overturned a deeply entrenched dogma about immunological tolerance, and made numerous observations that shaped fundamental concepts in virology, immunology, and infectious disease
Bear in mind that what follows was written by the Professor Oldstone in 2010.  That's ten years before the second "novel" SARS coronavirus appeared on the scene at Wuhan City, China at the end of December 2019.  
I listened to the Scribd audio book (13 hours). 
Many people, including myself, have had trouble making sense of the extreme measures put in place by governments around the world, to contain this second outbreak of the SARS-CoV.   
I submit that the global public health officials, under the control of the World Health Organization, already had plans in place should a second outbreak occur.  The rapid production of vaccines from the first appearance of the second Wuhan "novel" coronavirus is extraordinarily fast. Other vaccines have taken 10-20 years to develop from the first discovery of the virus.  

"Pfizer Inc. and BioNTech SE announced today, December 11, 2020, that the U.S. Food and Drug Administration (FDA) has authorized the emergency use of the mRNA vaccine, BNT162b2, against COVID-19 in individuals 16 years of age or older." 
That's only 12 months from when the "novel" SARS-CoV was discovered.   That must be an all-time record for the development of a specific vaccination for a newly discovered virus.    Was the development of this vaccination started soon after the Toronto SARS-CoV outbreak?  We will never know.
We must remember that the US Homeland Security Act, a brand-new body of highly complex U.S. legislation setting up a new government department was signed into law by President George W. Bush on November 25, 2002.    That's only 12 months after the 3 skyscrapers were demolished.  Was this legislation already drafted, and waiting for the right time to have it implemented?

We will never know. 

Was the Pfizer/BioNTech vaccine already prepared and on the drawing board, and waiting for the right time for its introduction on to the market?

We will never know. 

Notwithstanding, I think that learning about the Toronto outbreak can only help us to make sense of the current drift to totalitarian public health measures. 
Chapter 12
Severe Acute Respiratory Syndrome (SARS): The First Pandemic of the Twenty-First Century

Severe Acute Respiratory Syndrome (SARS) represented the first new viral pandemic of the twenty-first century. Beginning mysteriously in southern China during November of 2002, it was brought under control by 2004 but only after spreading to thirty-three countries on five continents and infecting over 8,000 humans, 774 of whom died (1). Then as mysteriously as it came, it disappeared.

Following the original epidemic in 2002–2003, a new outbreak occurred in 2003–2004.  During this second attack, the city of Toronto in the province of Ontario, Canada, was the world's most affected city. Because of the 375 SARS cases and forty-four deaths (2–4) there, the World Health Organization (WHO) advised staying away from Toronto. Their tourism industry suffered a loss of 260 million Canadian dollars, and layoffs of employees in related businesses reached double digits. The total financial loss for the province of Ontario was $1.13 billion (5,6).

What SARS is, how it originated and became a pandemic, and how it was recognized are the principal ingredients of this chapter. Telling those stories accents the danger SARS evoked in the world community, the Chinese government's initial denial that the disease existed, and a reversal of that claim by a courageous whistle-blower, Dr. Jiang Yanyong.    Finally, how the disease spread to and through Toronto exemplifies the speed and breadth of viral migration today.

SARS is caused by a member of the coronavirus family; therefore, the virus's full name is SARS-CoV (7).   Corona refers to the crownlike appearance of coronavirus, a circular core with spike-like projections of the surrounding glycoproteins, as viewed by electron microscopy.
Coronaviruses infect a wide variety of animals as well as humans. The first coronaviruses isolated included an infectious bronchitis virus of animals identified in 1930 (8), a transmissible gastroenteritis virus of pigs noted in the mid-1940s (9), and an encephalitis virus of mice recorded in 1949 (10).
By the 1960s, coronaviruses were isolated from humans, primarily from their upper respiratory tracts, and were associated with modest respiratory disease and minimal mortality (7).   All that changed in 2002/2003 with the birth of SARS-CoV and the severe clinical disease it caused in humans (1,11–14).
SARS-CoV infects not only the upper airway, as do the other human coronaviruses, but also cells lining the lungs, that is, the alveolar epithelium in the lower respiratory tract (7).
As a result, these patients have severe difficulty in breathing, causing shortness of breath, respiratory distress, and poor transfer of oxygen from the lungs to the blood. The smallest units of the lungs are the pulmonary alveoli or air cells that form the lung's alveolar ducts and sacs. In this area, the exchange of gases (intake of oxygen and exit of carbon dioxide) between the lungs and blood takes place. The alveolar lining is composed of epithelial cells that become infected with SARS-CoV.    In addition to infecting the lungs, SARS-CoV also nests in the small intestine, liver, and kidneys.
The mechanism(s), or pathogenesis, of injury to tissue infected by the virus is not clear. For example, as the clinical disease worsens, the amount of virus present (virus titer) decreases, while the number of infiltrating macrophages and T cells increases greatly. This scenario suggests that a major mediator of this tissue injury and disease may be the host's own immune response to the virus.   Further support for the concept of immune-mediated injury is the heightened levels of proinflammatory chemokines and cytokines, which are factors made primarily by infected macrophages and T cells (7) but known to cause injury. The significant elevation of these inflammatory products suggests that a "cytokine storm" plays an important part in the disease of SARS.
The lower respiratory track's involvement in this disease is often serious enough to require the victims' hospitalization. Of those admitted to the hospital, over 20 percent are so sick that confinement in an intensive care unit is necessary. The fatality rate is about 10 percent, over half of whom are the elderly and/or those having pre-existing heart or pulmonary problems. The course of disease after exposure to SARS-CoV is short; within four to six days the infected individuals develop the general symptoms of fever, weakness, muscle pain, and loss of appetite. After a few more days, respiratory symptoms emerge including a dry non-productive cough and shortness of breath. Thereafter, the disease either resolves or progresses to ongoing respiratory failure within several days, weeks, or occasionally months. For those who recover, complete remission may take months, and for some of these patients, respiratory difficulties remain permanent.
The coronaviruses per se are RNA viruses and contain the largest genome of any RNA virus, as much as 27–32 kb. By comparison, other RNA viruses like Lassa fever virus is 10.7 kb and poliovirus 7.5 kb. The RNA of coronaviruses is of a positive strand type; that is, their RNA is infectious and serves as a virus messenger RNA. Organizationally, the various RNAs of coronaviruses contain seven to fourteen open reading frames and usually encode five structural proteins.
The original outbreak of SARS began in November 2002 in Guangdong, southern China.   Because the characteristic symptom was respiratory distress without identifiable bacteria, the cause was provisionally attributed to a virus (reviewed 15).   
Epidemiologic studies showed that about half the patients examined early in that epidemic were food handlers in markets where live animals were sold or processed for meat or in restaurants (1,16,17). Others were health-care workers or family members taking care of SARS-infected patients. Laboratory study of viral RNA obtained from such patients revealed a similarity to coronaviruses but also a uniqueness.
Further, RNA genetic mapping of the SARS-CoV isolated from patients indicated a structure almost identical to that of coronaviruses isolated from animals in the marketplace, primarily the masked palm civet (catlike animals used in Chinese cuisine).
Serologic (blood) studies supporting the unique properties of this new infection and the relationship to civet animals defined a distinctive pattern. First, market traders whose blood was sampled during 2002–2003 had higher antibody titers to the coronavirus than did the general population; second, patients infected with SARS had high antibody titers to SARS-CoV, and third, retrospective surveys failed to document antibodies to SARS-CoV prior to 2002 in the South China area.
Further, the earliest bearers of SARS viruses were more often persons who lived close to the animal market than those further away. The first evidence that infected animals sold or processed in the markets might have transmitted the disease to humans occurred in 2003. Of twenty-five animals studied, a virus closely related to SARS-CoV was isolated from three masked palm civets and one raccoon (1,15).
Unfortunately, no further epidemiologic surveys were done at that time as follow-up on animals traded in the markets. Experimental studies were performed and revealed that ten mammalian species could be infected with SARS-CoV isolated from humans. One of these was the masked palm civet. When further sequence analysis proved a close match between viruses isolated from the civets and humans, an association of civets with the human disease was inferred. However, still not clear was whether the civets only spread the disease through primary infection and/or were also a natural reservoir of the virus. Even so, evidence suggested that civets could transmit and thereby spread SARS. A primary example was an incident of a waitress who became infected while working in a restaurant where a sick civet was housed in a cage (18).  However, this was obviously not the complete answer.
Part of the puzzle was missing, since epidemiologic studies also revealed that many animal handlers in close association with civets did not get the disease, whereas a number of humans who got SARS and were positive in tests for SARS-CoV had no contact with civets. However, suspicion that the masked palm civets transmitted SARS and the desire to prevent its spread led to the removal of civets from Chinese markets.
Later investigations cast doubt that civets were the reservoir for SARS viruses. First, there was no compelling evidence for widespread SARS-CoV infections of civets either trapped in the wild or raised on farms. Second, animals that serve as vector for transmitting a disease usually have coevolved with the pathogen and are rarely ill from the infectious agent they harbor.   Examples of such host/microbe interactions are the mosquito that carries and spreads yellow fever, the rodent that harbors and spreads Lassa fever virus, or the bat in which Ebola and Marburg viruses travel. Yet, when civets not previously exposed to SARS-CoV were experimentally infected with the virus, they developed overt disease. This result strongly suggested that, although civets could have initially infected humans, civets themselves had also become infected from another source and were not the natural reservoir for maintaining the infectious agent. What then could the natural reservoir be?
A number of investigators then evaluated the possibility that bats might be the natural reservoir for SARS-CoV (reviewed 15,19–22).  Bats are the known carriers of several viruses that infect humans—the so-called zoonotic viruses; these include rabies, Ebola, Hendra, and Nipah viruses. Additionally, bats and bat products frequent the foods and medicine markets throughout southern China. To test this hypothesis, over 400 bats in their natural habitat were trapped and sampled.
The results showed a high prevalence of antibodies to SARS-CoV.  The polymerase chain reaction (PCR) assay of genome sequences soon provided molecular evidence of SARS-CoV in bats.   Nearly 80 percent of the bats sampled had antibodies to SARS-CoV, and 39 percent had SARS-like genetic sequences in fecal swabs. The fact that bats were not sick from the SARS-CoV they carried further indicated that they were its natural reservoir.
At present, three distinct species of horseshoe bats have been implicated as natural reservoirs for maintaining SARS in the communities they occupy.
But how does the SARS-CoV spread from bats to civets and then to humans?  Bats have a high energy requirement, and they meet that need by eating fruit. However, instead of swallowing, bats chew the fruit they eat to extract sugars, proteins, and other needed compounds then spit out the partially digested residue. Presumably, bat saliva contains SARS-CoV, and the extruded infected material is then available on digestion to cause infection of other animals. Eating such processed and expelled fruits, civets would become infected.   Moreover, fecally or orally passed material from bats likely infects civets. Subsequently, by ingesting civet meat or by drinking a fruit drink expelled from bats' partially digested fruit, which is a popular beverage in China, humans could be infected.
However at the time of writing this chapter [2010], infectious SARS-CoV had not yet been isolated from bats, although those tested contained the viral genetic material. An additional issue still to be resolved is that the genomic sequence of SARS-CoV of humans differs significantly from SARS-CoV of bats.
Since viruses usually cannot jump from one species to another without adaptation, and bat SARS-CoV fails to grow in cell cultures that support the growth of both human and civet SARS-CoV, another yet to be discovered animal reservoir(s) may exist. Although bats are a likely candidate as the SARS-CoV reservoir, they probably are not the only one. Most important to the spread of SARS virus among humans is the transmission from one person to others, which spreads the infectious agent and resulting disease.
A still vital but incompletely answered question is, how did SARS become a global pandemic?
After the initial outbreak in 2002, the disease was contained in southern China by 2003. The Chinese government reported to the international community and the World Health Organization that containment was almost complete and that no new or very few cases of SARS had materialized.
However, this report was untrue, a purposeful deception by members of China's government.
In fact, SARS infections continued to arise and spread throughout China. Soon nongovernmental reports leaked to the outside world from individuals who reported that SARS was not controlled but, instead, repeatedly broke out in China during 2003.  As evidence of new cases emerged and as international pressure mounted, the Chinese government changed its course of denial and took drastic steps to curtail the epidemic and reverse its image of public health negligence and irresponsibility.
After an internal investigation, criminal charges were brought resulting in the death penalty for Chinese officials, doctors, and public health workers who had hidden the SARS outbreak.
In addition, the mayor of Beijing and the minister of public health were ousted from office. The spark that ignited international awareness that SARS remained unchecked in China despite official government denial came from a courageous Chinese doctor, Jiang Yanyong (23), who supplied documents to the outside world proving his claim.
Yanyong was a military physician posted in hospital 301 near Tiananmen Square. After the discovery that he had passed information about SARS infections to Western journalists, Yanyong was initially placed under house arrest and forbidden to talk to strangers. However, once the SARS outbreak was acknowledged by the Chinese government, Yanyong rose to international prominence for his disclosure that at least 100 patients were undergoing treatment in Beijing hospitals for severe cases of SARS.
The embarrassed Chinese leaders were forced to acknowledge that false information about the epidemic had been provided to the world's health community. As the whistle blower, Dr. Yanyong was then hailed as a national hero of China (23), and, remarkably, he used that platform to press China's ruling Politburo standing committee to admit not only their lies about the country's SARS epidemic but also their error in ordering military troops to shoot unarmed civilians and students in Tiananmen Square's massacre.
This admission had special meaning for Yanyong, who had been deeply involved in the 1989 massacre as a physician treating wounds of injured demonstrators. In 2007, this brave man was selected to receive The Heinz R. Pagel Human Rights of Scientists Award given by The New York Academy of Sciences (23), but he was prevented from receiving this award when the Chinese government removed his status of national hero and placed him under house arrest.
China is a powerful country whose ancient culture provided the world with such inventions as paper, gunpowder, and pasta. However, its governing style has been and continues to be dominated by a strong ruling body controlling a populace that is completely subservient. As a government with absolute power whose members are not elected by its citizens, the rulers feel no need for responsiveness to its people or compliance with international law. This scenario played out during the SARS epidemic when the Chinese government shed its responsibility and failed to participate in global cooperation.
For disease control, especially in this era of mass movement of people/businesses throughout our world and the rapidity of transportation to every geographic area, the cooperation of all the world's governments is an urgent necessity. Without universal cooperation in public health, continued fatal epidemics must prevail.
In 2003, a Canadian woman on a visit to Hong Kong became exposed to SARS-CoV and incubated the virus as she travelled by airplane on her return home to Toronto, Canada (2,13,14).
She developed fever and respiratory distress, was cared for at home, and died. Her son assisted with her care soon felt ill, found breathing difficult, and went to the hospital emergency room to seek help. The waiting room where he sat for hours was, as usual, crowded with others, so this son of the mother who died from respiratory failure and was later diagnosed as having SARS infected two more people. Those two communicated the disease to many more until the contamination of patients, health-care workers, and visitors resulted in 375 cases of SARS-CoV infection (7,15,24).
Among them, 45 percent, or 169 of the individuals infected, were health-care workers; two nurses and one doctor died (2,24). This episode was a catastrophe in the handling of human disease, during which one country's government failed to curtail its spread causing severe overloading of the medical and hospital facilities and a substantial financial loss in another country, which then suffered a lethal epidemic.
The World Health Organization responded with an advisory quarantine that, within three months after the first incident of SARS in Toronto, was discontinued when local authorities declared the crisis over. Nevertheless, a second and larger outbreak followed, likely due to the political and business pressures to lift the WHO advisory warning, the removal of local emergency restrictions, and a decrease in the surveillance system.
What are the lessons to be learned from this first pandemic of the twenty-first century?
The first is a responsibility of all nations to maintain surveillance for known lethal diseases, to exchange blood and tissue samples from infected humans and lower animals, and to be prepared with sophisticated new molecular assays such as gene chip analysis, PCR, cloning, and amino acid sequencing that allow rapid diagnosis.
In this context, no man is an island; we are all connected on this one planet.
Second, local and national politics as well as government control to protect any nation's image, business, or economy must be secondary to international health concerns.
Third, unrelenting surveillance that applies the established tools of epidemiology must be utilized to control disease and quarantine sites of infection when necessary to protect the common good.
Fourth, extreme care must be exerted in working with newly emerging and established human pathogens.
For example, in 2004, thirteen laboratory workers became infected with the SARS virus while working under improper containment conditions.
Fifth, the accessibility of rapid transportation to most every corner of the globe requires an international vaccine and quarantine program where appropriate.
Sixth, emergency plans should be devised and adopted in national and/or local areas where a new pandemic threatens.
The SARS outbreak in Toronto serves as a blueprint for the difficulties and workload involved and emphasizes what should and should not be done.
At that time, public health workers investigated 2,132 potential cases of SARS and identified 23,103 individuals who required quarantine because of contact with SARS patients. Over 315,000 phone calls were logged on a hotline for those concerned about the infection. SARS spread to eleven of Toronto's acute care hospitals, dramatically overburdening the healthcare system of that city. Of the 225 patients who met the criteria for a SARS diagnosis, all but three infections originated from the single index case initiated in Hong Kong.


--ooOoo-